Ready To Leave Virtual Learning Behind And Embark On The Adventure Of A Lifetime?
Not your average study abroad & gap year program. Watch this video to learn more.
This isn't your average study abroad & gap year program. Watch this video👇 to learn more.
Limited availability on upcoming 2023 voyages

18%

18%
Get instant access to our upcoming voyages, tuition & application👇
Limited availability on upcoming 2023 voyages
(The only way to reserve a spot is to fully complete an application.  You will be able to apply after submitting the form above)
What is Sea|mester?
Sea|mester is a one-of-a-kind study abroad and gap year program where students (like YOU) live aboard one of our sailing vessels as they learn to sail around the world, scuba dive, & explore new cultures — all for school credit. Watch the video above to learn all about us!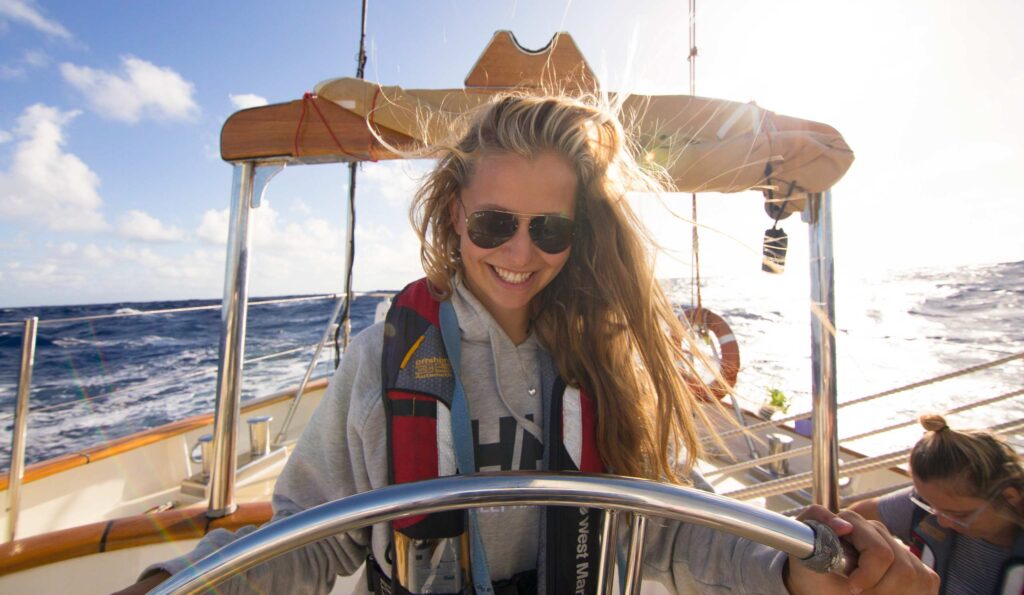 ✅ 20 – 90 Day Voyages
✅ Global Itineraries
✅ Up to 12 Credits
✅ Up to 12 Countries
✅ Ocean Crossings
✅ Live on a Sailboat
✅ Scuba Certifications
✅ Sailing Certifications
✅ Life-Long Friendships
✅ So Much More!
Coronavirus: Learn about our plans going forward 
We are very optimistic that we will be able to run voyages on all three of our vessels this fall and with everyone out of school for an extended period and us all living cooped up, this summer could be the MOST important one of all to get socially, emotionally and educationally engaged.
That said, we recognize that governments, as well as local and international agencies around the world, are making many of these decisions for us (DOS and CDC Travel Advisories, Closed Borders, Forced Quarantine, etc.), so we are monitoring these directives while moving forward with our program planning and prep.
The travel, training, certification and service components of our programs add complexity which takes a lot of organization, preplanning, and expenditure. With enrollment on our programs being limited, we plan to connect with each student to check in with you and chat about your upcoming voyage.
We believe that the best way to limit the risk is to employ the following strategies:
Strategy 1 - Minimize the likelihood of introducing infected individuals at the start of the trip
A. Students
To minimize the risk for everyone, before joining the start of the trip, we will require the following as a condition of participation:
1. That you submit to Sea|mester a negative COVID-19 test with results received within 7 days of travel to the program.
2. That you and your parent/guardian self-certify, then submit the following information on a specific form before traveling to the embarkation point.
You have complied with your States regulations and CDC best practices for social distancing etc. for 14 days before the trip, having had limited interactions with individuals other than those with whom you live.
Over these 14 days, you have taken proactive precautions during any other interaction with individuals with whom you do not reside.  This includes avoiding group gatherings, practicing social distancing and proper hygiene (handwashing, sanitizing, wearing a mask etc.)
Over these 14 days, you have taken your temperature daily and that it has continuously been within the range considered to be normal (98.6).
Over these 14 days, you have not experienced any other symptom that may be associated with Covid-19, such as a dry cough, loss of taste or smell, etc.
Certify that you have not been in physical contact with anyone who has tested positive for Covid-19 within 28 days before the trip.
3. When traveling to the point of embarkation we will request that you take maximum personal health precautions.  This including wearing a face mask, avoiding touching your face, wearing gloves and/or washing hands, and applying hand sanitizer frequently after touching common surfaces throughout the airport, aircraft, or any ground transportation.
4. Upon arrival at the initial rendezvous point, a staff member will check your temperature.  If it does not fall within the normal range (98.6), we will require you to self-isolate.  If the fever does not subside over the next 24 hrs, we will require you to remain self-isolated and possibly visit a Doctor to seek a diagnosis.  Either way, we will not allow anyone with an elevated temperature to join our team and without an absolute diagnosis from a medical professional a student would need to be symptom-free for 72 hrs. before being allowed to rejoin.
B. Staff
We will minimize the opportunity for our staff to be infected before the start of the trip by taking many of the same precautions as outline above for our students. In addition:
The vessel will be meticulously cleaned before your arrival in accordance to CDC guidelines.
The vessel will be stocked with enough cleaning supplies to last for the entire voyage.
To limit the need to provision ashore, the vessel will be stocked with as many dry goods as possible.
Strategy 2 – Once the trip is underway, limit the likelihood of becoming infected by others. In this case, "others" can be defined as asymptomatic staff or students or people with whom we may interact with outside of our immediate team.
Once aboard the vessel:
We will continue to temperature check each student and staff member daily.
The vessel will remain near-coastal in its arrival location until at least day 15.  At this point, we will consider the likelihood of a student developing symptoms low, thus feeling more confident to head further afield.
Shoreside activities will be carefully considered in the locations where we visit, this includes the excursions we select as well as the necessary provisioning runs.  Similar to any Sea|mester trip, the focus will be on our team and the voyage that we are undertaking together, rather than the destinations that we are visiting.
Strategy 3 – If any student or staff displays symptoms associated with COVID-19 during the trip, we will take all precautions in regard to the health and safety of the entire crew.
Should a student or staff member display or complain about COVID-19 like symptoms, they will be isolated as best we can within one of the cabins and the vessel will return to the nearest port with definitive medical care for diagnosis. If symptoms do not subside within 24-hrs, we will seek the advice of the medical professionals on how to proceed with transporting that student to a location where they can be tested and isolated ashore until such time that a diagnosis is reached.  It is possible that we would request that a parent/guardian travel to the shoreside location to assist with their student during this period. The rest of the students may also be required to disembark the vessel in order for a complete cleaning to occur. During this time it is likely that each student would be required to take another COVID-19 test prior to returning to the vessel to return to normal daily activity. For health and safety reasons, a positive diagnosis of any staff or student would necessitate the students being dismissed from the vessel until it is proven that the individual is free of COVID-19, and parents/guardians would be expected to collect their students and/or quarantine with their students as recommended by the authorities.
Can I switch my trip to another Seamester voyage?
As per our standard Terms and Agreements, so long as we have space and we are more than 30 days out from your current voyage start date, you can move your application to any other active Sea|mester voyage.  Within 30 days of the program start date, this can get a little trickier, but we will always do what we can to accommodate you.  Sea|mester normally issues a $25 trip switch administrative fee, however, due to the circumstances, we will waive the fee for any trip switch that occurs between now and July 6th, 2020.
Will you issue refunds if outside circumstances cause a voyage to be cancelled?
Yes. If we cancel a program, we will work with students to select one of the following options:
Switch to a different Sea|mester voyage.
OR
Issue a refund for any deposit and tuition payments made to Sea|mester.
What if I chose to cancel my voyage prior to the start date?
Should a student choose to or need to cancel their application our standard cancellation policies would apply.
We highly recommend that all students review and consider purchasing a Trip and Tuition insurance policy.  We partner with Travelex Insurance Services.  Please click through the link below and consider protecting your investment which would provide full refund options in case you are forced to cancel your enrollment.
Travelex Trip Insurance 
🔊 What Our Alumni Have To Say

🔥
We believe the best way to learn about our program is to hear it directly from people who actually experienced it.

Tait
Fall 2018: Mediterranean to Caribbean
"My dive instructor was incredible; she was fun, knowledgeable, and made it easy!"
Garrison
Summer 2019: Tahiti to Australia
"I was really interested in the responsibility that Seamester would give me."
Bianca
Summer 2018: BVI's to Antigua
"To this day I say this — it was the best twenty days of my life!"
Rebecca
Fall 2019: Australia to South Africa
"It was just an extraordinary opportunity that I couldn't ignore."
Edwin
Summer 2018: British Virgin Islands to Dominica
"… a good break from your typical grindy college environment."
Daisy
Summer 2018: Mediterranean to Caribbean
"I don't think I'll ever get the chance to sail across an ocean ever again so something in me snapped and said: Do It!"
Laura
Summer 2018: British Virgin Islands to Antigua
"Looking back now I can say it was priceless, but the affordability of it was huge for me to be able to go on such an amazing adventure."
Oleg
Fall 2018: Mediterranean to Caribbean
"Since we traveled the world, I got enveloped in all those cultures. The programs really don't lie, they throw you into these worlds."
Julia
Fall 2014: British Virgin Islands to Antigua
"I would recommend it to anyone, but especially if you have an adventurous side."
Ethan
Spring 2018: South Africa to Caribbean
"The whole course of my post-college career has been informed by my time on Argo."
Kathryn
Summer 2015: British Virgin Islands
"When I started I knew nothing about boats, and by the end, I was sailing by the stars!"

Here Are Some Frequently Asked
Questions About Sea|mester Here are some common questions & answers about Seamester
Click the plus icon (+) or the question to read the answer!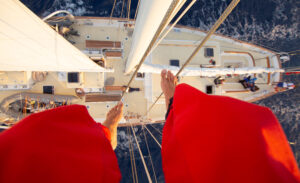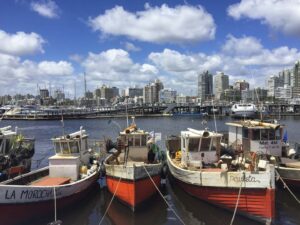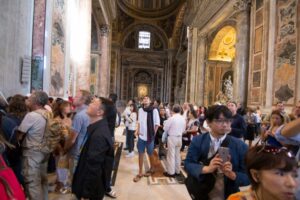 What is Sea|mester?
Sea|mester is a one-of-a-kind study abroad and gap year program where students live aboard one of our sailing vessels as they learn to sail around the world, scuba dive, and explore new cultures — all for school credit.
How do I apply?
Enter your name, email, and phone number on the form at the top of this page to start the process (or click here).
After submitting your information you will be sent our upcoming voyage itineraries and be able to apply, schedule a call with us, or Call a program coordinator immediately. We hope to see you on the next page! 
How long have you been running educational programs?
For us, it all started in the mid-1970s when Jim Stoll (founder of the original company) began a high school aboard two large schooners. Twelve years later, with children of his own, Jim moved back ashore to develop motivational programs for young adults. In the mid-eighties he once again headed to the water, to run the teen program ActionQuest. In 1995, Jim was joined by Mike Meighan. A recent oceanography and marine biology graduate, Mike dreamed of creating a truly interactive educational experience. Using the principles of experiential education, Mike developed Sea|mester in 1998.
Over the past 20 years, Sea|mester has operated more than 113,000 student days, issued over 16,000 academic credits, sailed in excess of 250,000 nautical miles and circumnavigated the world four times.
What is the typical age of the students?
Most students are typically either graduating high school or in their sophomore or junior years in college so you can expect ages primarily from 17 through 22. Sometimes we allow students up to 24 depending on circumstance.
Do I need a passport?
As fun as it is being looked at like a full-blown pirate, yes, we try to keep everything above aboard at the customs line by having a valid, up-to-date passport.
Who are the staff members?
Good question! We are a diverse cast of characters, and we come from all different backgrounds – Captains, Marine Engineers, Marine Biologists, Oceanographers. Some of our team came to Sea|mester to study abroad in college and found their way back realizing that their life's work was here to bring up the next generation. Despite how we all arrived from the disparate places we came from, we can say definitively that we all share a deep desire to reach others, discover new ways and evolve together.
Is there wifi?
The glorious world wide web is available… but only for special occasions like the ship's daily blog posts to update friends and family.
Don't panic, it'll still be there for you when you get back ashore. We just truly believe in the ever-increasingly "rare" opportunity to unplug and allow yourself to connect with your amazing environment and those around you.
Do I need vaccines?
Yes, you will need to ensure that you are up-to-date on all shots and medical requirements before embarking on your trip. 
How do I communicate with home?
We always maintain a satellite uplink for communications so email can be sent need be, but the vast majority of your time spent bragging how much fun you're having will be done ashore via international calls.
Do you accommodate students with special needs?
In many cases, yes. While the environment we create is appropriate for most, it is not for everyone. Successful Sea|mester students are in good physical and emotional health and have an interest in immersing themselves fully in our community. Sea|mester students are excited to learn new skills, experience new places and are capable of working positively within a close-knit team even when tired. While it's natural for new students to be a little nervous before joining our team, prospective students should reconsider if dealing with behavioral, motivational, or rehabilitation issues. If you are unsure whether our adventure is suitable, please enter your name and email on the form at the top of the page and you can call the number on the next page to discuss your needs with us, and we will work towards accommodating them if we can.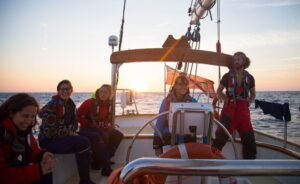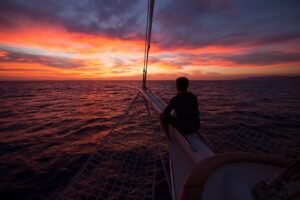 What is a day in the life?
The easy non-answer is to say that no day is the same with Sea|mester so it's impossible to say. Which is true. But for the sake of helping you envision what your life could be like on Seamester… let's just say that in general there are two kinds of days —
Passage Days 
These are when we are sailing between ports or to new destinations (like to another continent!) so your time will largely revolve around maintaining the vessel on its course. These days are comprised of several hours of classes, daily duties from the "job wheel" scheduler, regular scheduled 2-4 hour watches, and free time to do as you see fit.
Shore Days
As for shore days we are usually docked or moored near the coast and are typically diving or exploring the new place we're in. Interspersing fun, land-based jaunts like hiking, tours, and dining out, you will also have class time, boat appreciation, and more of the job wheel. One of the best aspects about Seamester, however, is the unpredictability — so regardless if we're out at sea or hitting the beach be prepared to carpe that diem.
Do I need sailing/seamanship experience?
No! We welcome sea-challenged folks right alongside those that already have salt water pumping through their veins.
What are some of the activities we do at port/onshore?
Naturally, it depends when and where you are but past students have enjoyed many of the following activities: hiking, bicycling, snorkeling, playing beach volleyball, ziplining, cave spelunking, surfing, wakeboarding, sailing, paddle boarding, paragliding, museum visits, sightseeing tours, shopping, dining out, service projects with local community groups, and many more.
Will I get seasick?
The reality is many do have to deal with it at some point on the trip, but certainly not all. It can affect long-time sea captains and new sailors alike, it really depends on the individual.
Fortunately, there are lots of effective remedies and over-the-counter medications that can help you expedite getting your sea legs. Most usually acclimate within about 36 hours so just hang in there and power through while you keep Charles Darwin in mind when he said, "if it was not for sea sickness the whole world would be sailors."
What's the food like? What if I have dietary restrictions?
That's one of the best parts of boat life, the around-the-clock challenge of providing healthy and delicious meals for 25-plus people three times a day. You can count on a lot of basic ingredients, as well as the occasional meal repeat, but it will all be fresh and nutritious nonetheless. As for dietary restrictions we employ some brilliant culinary minds who know how to innovate and we can definitely make reasonable accommodations.
Can I fish?
You bet! Many of our students enjoy throwing a line off the back while we are underway. Our alumni have caught some impressive size fish of all variety over the years.
Will I have to do chores?
Living on a ship demands regular daily contributions from each member including cooking, cleaning, and performing maintenance checks. "Ship Appreciation" is another session of deep cleaning and maintenance that we perform after extended sail times.
What type of boats do we sail on?
We have three world-class sailing vessels — Argo, Vela, and Ocean Star.
Completed in 2006, Argo is a 112-ft two-masted staysail schooner with room for 26 students and 7 staff. We often say she's a big "little boat" — meaning we designed her to be easy for students to operate. Since our goal is to have students reach the point where they run the vessel, trainability is obviously key. She was also special-built to circumnavigate the globe which likely means an extended sailing across an ocean. 

Launched in 2020, Vela is our Argo 2.0 — she's the same design and capacity with minor improvements. As Argo's sister ship she will also be faring out on the open ocean.

Ocean Star is our old lady, with us since 2000. While she's also a two-masted schooner,  88 feet long, and can accommodate twenty people, she offers a different kind of experience. Rather than crossing oceans as a focus, her voyages are kept to coastal sailing primarily, and as a result, these programs tend to spend more time exploring ashore and scuba diving.



Each of our vessels offers different sailing experiences — so make sure you fill out the form next to this video to gain access to pricing and itineraries.
How much time is spent onboard the ship versus on land?
Again, this depends largely on the trip you choose. If you're aboard Ocean Star and island-hopping about in the Caribbean you can expect perhaps a 2:1 land-to-sea experience. If you choose an itinerary with a transoceanic journey you can reasonably expect that ratio to shift to more ocean time. Considering what you want to achieve and what your preferences are in this regard will be crucial to factor in when choosing the right Seamester for you.
What are some of the activities we do onboard?
Basically your time aboard is all about juggling required ship duties, scheduled watches, classes, meals, study time, and free time. Sounds boring? Not a chance!
Each day offers unique challenges and opportunities so expect to be fishing one day, playing card games the next, or having a dance-off on another. The Squeeze is also a daily practice in gratitude where we hold each others' hands in a group and have student-led discussions to help one another appreciate what we have learned, who we are with, and how best to live a meaningful and rich life.
What is the bathroom situation?
There is one shared "marine head" for students. While it is tight and requires some practice before you get the hang of it you will definitely find that it adds a lot to the authentic seafaring experience. 
How often can I go scuba diving?
Our programs range anywhere from 20 to 90 days so this is the main factor in how many dives you can do. Generally, you can expect anywhere from fifteen to thirty dives.
What if I am already scuba certified?
That's great! Then you can level up with a more advanced scuba course all the way up to Dive Master.
Where do we stay when we're in port?
You will stay on the ship in your bunk when we are moored in a harbor or docked at a slip.
Can I bring my laptop and devices?
Of course — but the real question is… how often will you need them? Aside from using them for your classes you probably won't use them for anything more than taking pictures. 
What do I need to pack?
We will provide you a voyage-specific packing after you are accepted to the program. 
Just remember your bunk space is shared with whatever you bring so it's best to pack as minimally as you're comfortable with.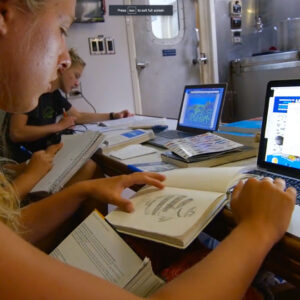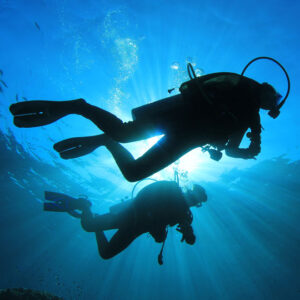 What certifications can I earn?
Based on your experience, we teach these courses for sailing to earn the following certificates…
International Crew 

VHF Operator

Navigation Master

Master of Yachts 200 Ton Offshore Theory
As for scuba, we offer the following PADI certifications…
Open Water Diver

Advanced Open Water Diver

Rescue Diver

Divemaster

Emergency First Response
How many credits are available? Will they be accepted at my school?
Seamester is accredited with the University of South Florida by the Commission on College of the Southern Association of Colleges and Schools — meaning we issue official transcripts upon completion for future transfer. Depending on your schedule and itinerary you can earn 12 or more credits each semester with each course earning 3 credits. The core curriculum includes:
Nautical Science

Marine Biology

Oceanography

Student Leadership Development
As each student's academic needs and university system vary, we strongly encourage everyone to inquire into their study abroad or registrar's office to ensure transferability. If that seems daunting, no sweat, just reach out to us and we'll take the first step to figure out how Seamester can work for you and your academic goals.
How do classes work?
Just like any other institution — only our classes take place aboard a sailboat or in the water in some of the most incredible locations in the world.
Are there office hours?
Always. Literally day or night, feel free to talk with one of our instructors who are readily available for one-on-one assistance.
How much class time is there each day?
This varies depending on numerous factors but each class is typically 45 minutes to two hours with an hour of ancillary study time allotted.
What is the student to staff ratio?
Though it varies on each voyage we try to maintain, on average, one staff member for every five students so every lesson you take feels personalized and tailored to bringing out the best in you.
Do I get to choose what I do outside of class time?
Yes and no. While there are certainly non-optional duties required of you to ensure a pleasant and productive experience for everyone, there is plenty of time that is open and unscheduled. In general, you are largely left to your own devices to manage your own schedule as you see fit (but know that with Seamester there's always something you could be doing to help out with if you so choose).
Are there finals?
You bet! Disappointing?
Perhaps until you realize that to "cram" for that last big test you'll be basking topside in the sun or reviewing material underwater as you scuba dive over a coral reef teeming with shoals of exotic fish.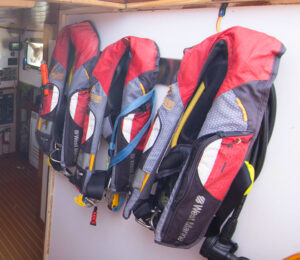 Is it safe?
It is imperative we're transparent about the challenges of sailing — any program that 100% guarantees safety is selling you a bill of goods. That said, we do everything possible to manage risk and remain fully prepared for any scenario. We make sure to implement the best gear and equipment, employ the best and brightest in the industry, and train rigorously. All of our vessels are carefully maintained and inspected regularly by Brittain's premiere nautical and ocean-going monitor. We also are proud to be partnered with an international emergency response firm, and you can rest easy knowing that we are always with a satellite uplink and radio communications.
How are you handling Covid-19?
We recognize that governments, as well as local and international agencies around the world, are making many of these decisions for us (DOS and CDC Travel Advisories, Closed Borders, Forced Quarantine, etc.), so we are monitoring these directives while moving forward with our programs.
The travel, training, certification and service components of our programs add complexity which takes a lot of organization, preplanning, and expenditure. With enrollment on our programs being limited, we plan to connect with each student that applies.
What if there is some unforeseen emergency?
We work with International SOS and MedAire to provide integrated emergency services for the remote environments we travel in. These are US-based companies with an international footprint. Through a single point of contact, our Membership extends us world-class medical advice, security services, and evacuation coordination anywhere in the world so we are prepared for any and all scenarios at passage and ashore.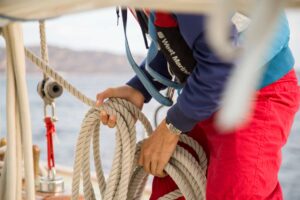 How much does it cost?
Great question. If you can see yourself excelling in our program then fill out the form at the top of this page and we will send you our upcoming voyage itineraries and their tuition costs.
Read the scholarship FAQ below for more info.
Are scholarships available? What are other financing options?
Absolutely! On average 1 out of 3 students who apply receive scholarships. 🔥
We offer scholarships up to 40% of your total voyage cost (unfortunately, we cannot offer more.) Please know that offers are based on need and determined on a case-by-case basis. If you have special circumstances regarding your financial needs please let us know in your application essay for us to take into consideration. We can work with your school officers to help navigate your specific situation.
*We also accept any of your existing private grants, GI bills, 529 plans, and more. 
What costs are covered by tuition?
The individual pricing of each voyage will be provided in a follow-up email, but each will include the following: 
Sea|mester academic instruction for the applicable courses offered during that voyage

University of South Florida (USF) academic credit for all academic classes offered during the program.

Full room and board

All group excursions, field trips and destination-focused educational experiences

Non-professional sailing instruction and certification costs

Non-professional scuba instruction and certification costs for programs longer than 20 days
What costs are not covered by tuition?
Though each voyage necessitates certain schedules, here are some other expenditures to consider:
Travel costs to and from the program

Certain equipment expenses such as foul weather jacket, bibs and boots as well as a mask, fins, and snorkel

Personal spending money

Required International SOS and MedAire membership & emergency evacuation insurance

Other insurance (Medical and/or Travel Protection)

PADI scuba diving books and materials fee

Scuba diving fee (only applicable on 20-day voyages)
Will you issue refunds if outside circumstances cause a voyage to be cancelled?
Yes. If we cancel a program, we will work with students to select one of the following options:
Switch to a different Sea|mester voyage.
OR
Issue a refund for any deposit and tuition payments made to Sea|mester.
Still Not Convinced?
Read more independent reviews from past students (with pictures) below! Colleges & Universities our students attended before or after embarking on their Sea|mester voyage
Acadia University, Nova Scotia
Adelphi University
Alfred University
Algonquin College
Allegheny College
Alma College
American Military University
American University
American University of Paris
American University of Rome
Amherst College
Anne Arundel CC
Appalachian State University
Arizona State University
Arkansas State
Art Institute of California
Art Institute of Seattle
Auburn University
Babson College
Bard College
Barry University
Baton Rouge CC
Baylor University
Belmont University
Beloit College
Bentley College
Bentley University
Berry College
Boise State University
Boston College
Boston University
Bowdoin College
Brandeis University
Bridgewater State College
Brigham Young University
Bristol Community College
Brooks Institute of Photography
Brown University
Bryant College
Bryn Mawr College
Bucknell University
Butler University
California Polytechnic University
CSU – Channel Islands
CSU – Fresno
CSU – Long Beach
CSU – San Marcos
Camden County College
Canadian College of Italy
Cape Cod CC
Cape Fear CC
Carleton College
Carnegie Mellon University
Carpe Diem Education
Case Western Reserve University
Central Florida CC
Central Oregon CC
Champlain College
City College of New York
Claremont McKenna College
Clemson University
Clovis Community College
Coastal Carolina CC
Coastal Carolina University
Colby College
Colby Sawyer College
College Calvin
College of Albemarle
College of Charleston
College of Marin
College of New Jersey
College of the Atlantic
College of the Holy Cross
College of William and Mary
College of Wooster
Colorado College
Colorado State University
Columbia College
Columbia University
CC of Rhode Island
Connecticut College
Cornell University
Cosumnes River College
County College of Morris
Creighton University
Cuesta College
Curry College
Dalhousie University
Dartmouth College
Davidson College
Daytona Beach CC
Dean College
DePaul University
Diablo Valley College
Dickinson College
Drew University
Drexel University
Dristol Community College
Duke University
East Carolina University
East Tennessee State University
Eastern Florida State College
Eastern Washington University
Eckerd College
Elizabethtown College
Elon College
Embry-Riddle Aeronautical University
Eugene Lang College
FAU Harriet Wilkes Honors College
Fettes College
Finger Lakes CC
Fitchburg State University
Florida Atlantic University
Florida Gulf Coast University
Florida International University
Florida Keys CC
Florida State University
Fordham University
Fort Lewis College
Framingham State College
Franklin and Marshall College
Franklin W. Olin College
Gannon University
George Washington University
Georgetown University
Georgia Institute of Technology
Georgia Southern University
Georgia State University
Gettysburg College
Golden West CC
Grand Rapids CC
Green Mountain College
Greensboro College
Grove City College
Guilford College
Gustavus Adolphus College
H. Lavity Stoutt CC
Hamilton College
Hampden-Sydney College
Hampshire College
Harold Washington College
Hartnell College
Harvard University
Haverford College
Hawaii Pacific University
High Point University
Highline Community College
Hobart & William Smith Colleges
Hofstra University
Hope College
Howard Community College
Humboldt State University
Hunter College, NY
Indian River CC
Indiana University
Indiana University – Bloomington
Indiana University of Pennsylvania
Indiana Wesleyan University
Instituto Modelo de Ensenanza Individualizada
Instituto Regiomontano de Hoteleria
Instituto Tecnológico Autónomo de México
Internat Birklehof
Irvine Valley College
Ithaca College
James Madison University
Johns Hopkins University
Johnson County CC
Johnson State College
Juniata College
Kalamazoo College
Kent State University
Kenyon College
Laboratoy Institute of Merchandising
Lafayette College
Landmark College
Langara College
Lawrence University
Layola Blakefield
Lehigh University
Lewis and Clark College
Liceo Franco Mexicano
Lindenwood University
Linfield College
Louisiana State University
Loyola Marymount University
Loyola University Chicago
Luther College
Luzac College
Lynchburg College
Lynn University
Macalester College
Manatee Community College
Marist College
Marquette University
Massachusetts College of Art
Massachusetts Institute of Technology
McDaniel College
Mercer University
Metropolitan State College of Denver
Miami Dade College
Miami University
Middlebury College
Millsaps College
Mississippi College
Mississippi State University
Mitchell College
Mitchell Community College
Montana State University
Montgomery College
Montreat College
Morehead State
Mount Holyoke College
Mount Wachusett College
Mt. San Jacinto CC
Muhlenberg College
Naropa University
Nassau Community College
New College of Florida
New England College
New York University
Nichols College
North Carolina State University
North Shore CC
Northeastern University
Northern Arizona University
Northern Kentucky University
NorthWest Arkansas CC
Northwestern Connecticut CC
Northwestern University
Norwich University
Nova Community College
NPTI
Oberlin College
Ocean County College
Ohio State University
Ohio Wesleyan University
Old Dominion University
Orange Coast College
Oregon State University
Palm Beach Atlantic College
Palm Beach Atlantic University
Palm Beach CC
Penn State University
Pennsylvania State University
Pepperdine University
Pierce College
Pikes Peak CC
Pine Manor College
Pitzer College
Plattsburgh State University
Plymouth State University
Polk Community College
Pomona College
Portland Community College
Portland State University
Prince William Sound CC
Princeton University
Providence College
Purdue University
Queen's University at Kingston
Quest University
Quinnipiac University
Qwynedd Mercy College
Radford University
Red Rocks CC
Redeemer University College
Reed College
Regis College
Rhodes College
Rice University
Richard Stockton College of New Jersey
Richland Community College
Richmond The American International University
Rider University
Roanoke College
Rochester Institute of Technology
Roger Williams University
Rollins College
Rose-Hulman Institute of Technology
Rosseau Lake College
Russell Medical Center
Rutgers University
Saint Michael's College
Salem State College
Salve Regina University
Samford University
San Diego State University
San Francisco State University
San Jose State University
Santa Barbara City College
Sarah Lawrence College
Savannah College of Art and Design
Scranton University
Seattle University
Seminole Community College
Sewanee University
Shasta College
Sierra College Rocklin
Simmons College
Simon's Rock College of Bard
Skidmore College
Skyline Community College
Smith College
Soka University of America
Sonoma State University
South Puget Sound CC
South Texas College
Southern Connecticut State University
Southern Methodist University
Southern New Hampshire University
Southern Oregon University
Springfield College
St. Anselm College
St. Columba's College
St. Edward's University
St. Francis College
St. Joseph's University
St. Lawrence University
St. Louis CC
St. Mary's College
St. Michael's College
St. Petersburg Junior College
Stanford University
Stetson University
Stonehill College
Suffolk County CC
Suffolk University
SUNY Geneseo
SUNY Purchase
Susquehanna University
Syracuse University
Technical University of
Budapest (BME)
Temple University
Texas A&M at Galveston
Texas A&M University
Texas Christian University
Texas State University
The American University
The Art Institute of Seattle
The Citadel, The Military College
The College of Wooster
The Cooper Union for the Advancement of Science and Art
Towson University Technical
Transylvania University
Trinity College
Trinity House
Tufts University
Tulane University
Tulsa Community College
Unidad Educativa Colegio Humboldt Caracas
Union College
Unity College
University at Albany, SUNY
University California Merced
University of Alabama
University of Alaska – Anchorage
University of Alaska Fairbanks
University of Alberta
University of Arizona
University of Arkansas
University of British Columbia
UC – Berkeley
UC – Davis
UC – Irvine
UC – Los Angeles
UC – Riverside
UC – San Diego
UC – Santa Barbara
UC – Santa Cruz
University of Central Arkansas
University of Central Florida
University of Charlotte
University of Chicago
University of Chicago St. John's College
University of Colorado at Boulder
University of Colorado at Denver
University of Connecticut
University of Dayton
University of Delaware
University of Denver
University of Deusto
University of Edinburgh
University of Florida
University of Georgia
University of Hawaii
University of Houston – Clear Lake
University of Idaho
University of Illinois at Urbana-Champaign
University of Iowa
University of Kings College
University of Louisville
University of Lund
University of Maine
University of Maine at Farmington
University of Manitoba
University of Mary Washington
University of Maryland
University of Massachusetts
University of Miami
University of Michigan
University of Minnesota
University of Mississippi
University of Missouri
University of Montana
University of Mount Union
University of New England
University of New Hampshire
University of North Carolina
University of North Florida
University of North Georgia
University of Notre Dame
University of Oklahoma
University of Oregon
University of Pennsylvania
University of Pittsburgh
University of Puget Sound
University of Reading
University of Rhode Island
University of Richmond
University of Rochester
University of San Diego
University of San Francisco
University of Scranton
University of Seattle
University of South Carolina
University of South Florida
University of Southern California
University of St. Andrews
University of St. Thomas
University of Sydney
University of Tampa
University of Tennessee at Chattanooga
University of Texas at Austin
University of the Arts
University of the Pacific
University of the South
University of the Virgin Islands
University of Toronto
University of Tulsa
University of Utah
University of Vermont
University of Victoria
University of Virginia
University of Washington
University of Western Ontario
University of Wisconsin
University of York
Upper Iowa University
Utah Valley University
UW-River Falls
Valdosta State University
Valencia Community College
Vancouver Island University
Vanderbilt University
Villanova University
Virginia Commonwealth University
Virginia Polytechnic Institute
Virginia Tech
Wagner College
Wake Forest University
Warren Wilson College
Washington and Jefferson College
Washington and Lee University
Washington College
Washington State University
Washington University in St. Louis
Waubonsee CC
Weaton College
Wellesley College
Wesleyan University
West Chester University
Westchester University Of PA
Western Michigan University
Western New England College
Western State Colorado University
Western Washington University
Wheaton College
Whitman College
Whitworth
Wofford College
Yale University
Yavapai Community College
York College of Pennsylvania
Young Harris College
To access upcoming voyages, tuition details, and our application process –

Fill Out The Form

 

To get access to our upcoming voyages and tuition details
Fill Out The Form Below 
We hope to see you aboard soon!
Copyright © 2023 go.seamester.com
Privacy Policy | Terms | Earnings Disclaimer
Sea|mester 12242 P.O Box 5517 Sarasota, Florida 34277
This site is not a part of the Facebook website or Facebook Inc. Additionally, this site is NOT endorsed by Facebook in any way. FACEBOOK is a trademark of FACEBOOK, Inc.